Mavic R-Sys "Recall Replacment" Failure
See other failures under 000.html.
---
Mavic R-Sys "recall replacement" wheel fails. From http://www.velonews.com/article/93054 as of 2009/06/09.
Mavic R-Sys wheels came in two versions: the earlier version has uniform-color black spokes and was recalled due to failures; the later "Ultimate" recall replacement version has different carbon fiber orientations, added Kevlar, and three silver marking rings on each spoke. This page is about the later recall replacement version. Note there is also an "R-Sys Ultimate" using carbon-fiber hubs and rims, with similar spokes bonded in place.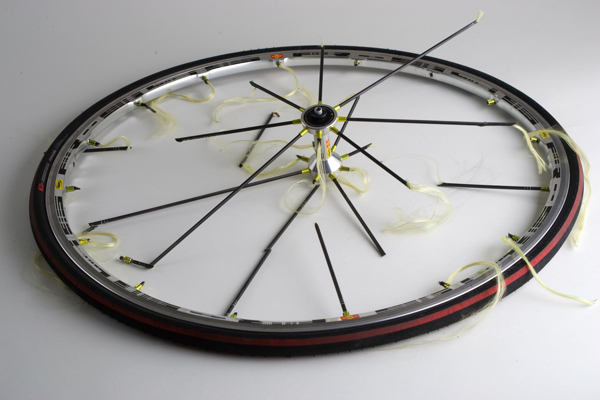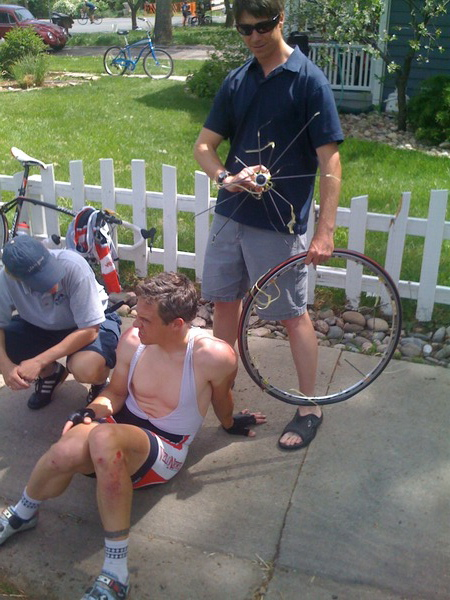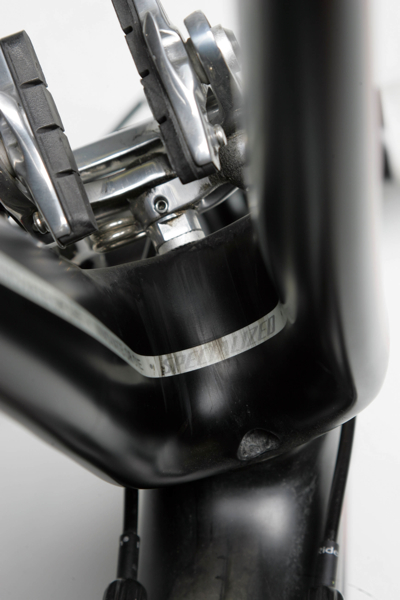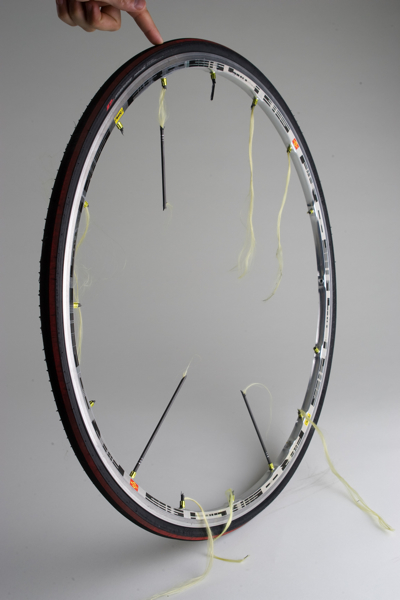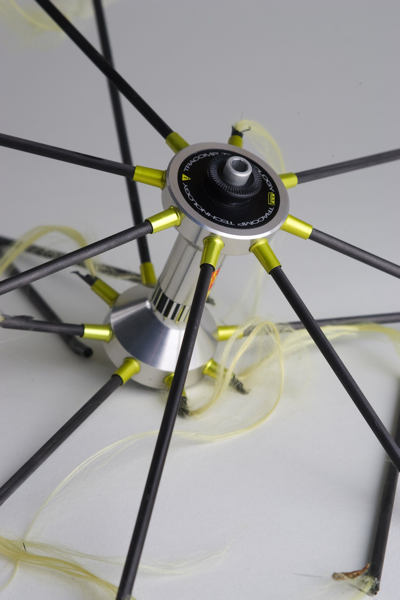 Rider felt "wobbling" or"shimmy" while cornering and following a slight dip in the road; 1-2 seconds and about 10 metres later, while going straight, the rider was thrown over the handlebars, landing on his head and breaking his shoulder.
The rider heard a rubbing sound just before the crash, the fork underside is scuffed, and the rim is ovalized but not otherwise obviously damaged.
Wheel service history is unknown but based on the recall date the wheel has 5 or fewer months of use. The wheel was not known to be previously damaged and was not involved in an unusual load (such as rider, bicycle, or debris strike) before the crash. The wheel was "new" and had not been trued or otherwise changed.
Rider weight about 85 kg (190 lb).
Mavic said this is the first known failure of a replacement R-Sys.
According to the article, a Mavic representative suggests "rider error could have caused the wheel to fail through a loss of control." Witnesses and photographic evidence seem to eliminate collisions and other severe damage. A loose wheel quick release might be suspected, but the "skid mark" on the underside of the fork crown suggests the tire dragged on the fork before separating from the fork, wherease a loose QR would not leave a skid mark. (And anyway that's not "loss of control".) In short, the wheel appears to have failed when subjected to ordinary loads.
Mavic notes in a follow-up article (http://velonews.com/article/93240/mavic-responds-to-wheel-collapse-article as of 2009/08/23) that the rim of the failed wheel had ovalized; the quick release and axle ends were not significantly scratched; the tire separated from the rim; the valve stem is missing; and the bicycle's top tube broke.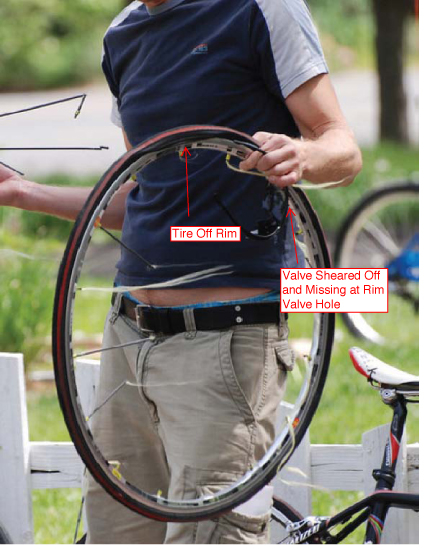 Mavic argues it is not yet clear what was the first failure. However, with a history of carbon fiber spoke catastrophic failures, despite limited use, they are the strongest candidate for problems. Also, conventional wheels do not fail so severely when the rim warps, the quick release comes loose, the tire separates, the tube loses pressure, or one of the frame tubes fails. A classic 'taco' failure is unlikely to throw the rider ground.
---
See also FAIL-113.html.